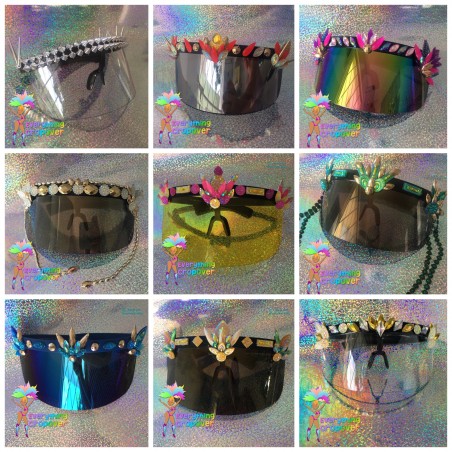  
Bling sunglasses - Custom design VISOR
Custom designed bling sunglass visor to match your Carnival costume or fete outfit.
Styles:
· Sunglasses visor/ shield
Lens colors:
· Clear
· Black clear
· Blue clear
· Blue reflective
· Orange clear
· Pink clear
· Yellow clear
· Rainbow reflective
· Gold reflective
· Silver reflective
Gem colors:
· Black
· Blue
· Green
· Purple
· Yellow
· Orange
· Pink
· Red
· Gold
· Silver
· Bronze
· Crystal AB/ White
Security policy
We are committed to protecting the privacy of visitors to our Site.  Click here for more information
Delivery policy
Packages are generally dispatched via USPS within one business day after receipt of payment
Return policy
Due to the custom nature of our products we do not accept returns. Click here for more information
HOW TO ORDER:
· Choose your lens color (visor)
· Choose your gem colors
· Alternatively send us a photo of your costume and we'll create beautiful bling shades to match. WhatsApp photos of your costume/ outfit to: (954) 760-3826.
FEATURES:
· unique designs (each custom designed pair of sunglasses are One-of-a-Kind)
· clear or reflective lens (super stylish to block the haters!)
· gorgeous gems and trims (sparkle wherever you go)
· lightweight (much lighter than glass)
· comfortable, folding arms (easy to store when not in use)
CARE INSTRUCTIONS:
· wipe with a clean, dry lint-free cloth (microfiber - no abrasives)
· Lens may break/ gems will fall off if dropped, knocked etc, so please treat your bling sunglasses with care
RETURNS/ EXCHANGES:
We do not accept returns on this item. Please contact us if you are unhappy with your sunglasses, for any reason.
Whilst all effort is taken to ensure gems and trim are affixed with sufficient glue, occasionally gems or trim will become loose. Simply use Gorilla grip, E6000, hot glue, or any other glue suitable for use with acrylic to re-attach the gem.
Please note:
Your monitor may display colors slightly different to real life. We have made every effort to display the colors accurately online, however color calibration of computer monitors can vary considerably. These photographs are a close representation of the actual colors of the items. If you have any questions please message us BEFORE making a purchase.
Follow us to keep up to date on new products, exclusive sales and exciting news:
Instagram @everythingcropover
TikTok: @everythingcropover
No customer reviews for the moment.