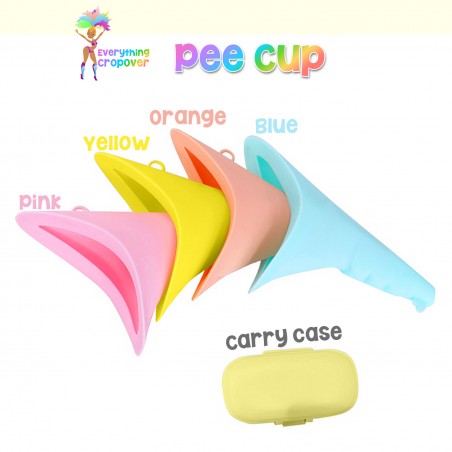  
Pee Cup | Travel Sized Urination Device | Stand Up To Pee for Carnival | includes small carry case
Portable Urination Device for Women - Makes using the bathroom so quick and convenient, whether you are at a Carnival, or Festival, on a road trip, or hiking in the great outdoors. Stand to pee with this handy device, and avoid the hassle of having to find a restroom on the go. Made of medical grade silicone, this female pee funnel is essential to carry with you for any outdoor activities.
There is no need to use a dirty port-a-potty or spend hours waiting in line for the restroom anymore. With this compact Pee Cup, you do not have to squat to pee when you are camping, partying, boating, driving, or hiking outdoors! This travel pee cup also helps prevent unwanted splashes on your boots or footwear.
Practice make perfect! Please try it out for several times at home before you use it. It might be a little tricky the first few times you try, but then it's quite simple.
Security policy
We are committed to protecting the privacy of visitors to our Site.  Click here for more information
Delivery policy
Packages are generally dispatched via USPS within one business day after receipt of payment
Return policy
Due to the custom nature of our products we do not accept returns. Click here for more information
DISCREET AND COMPACT (CARRY CASE INCLUDED) - Weighing just 1.5oz (including the carry case), your Pee Cup fits dicreetly into the carry case. Carry case measures just 3.75" x 2" x 1.25". Pee Cup measures 5" x 6" when unfolded

HIGH QUALITY SILICONE - The Pee Cup for women is made of medical grade silicone that is soft, lightweight, hygienic, and skin friendly. The top edges slope inward to fit your body perfectly. You'll feel at ease and no need to worry about leaking urine

CONVENIENT - No need to squat in the bushes, or use a dirty port-a-potty! Have a wee whenever, and wherever you need to, without removing your clothing or underwear. This pee cup is perfect for certain situations where a clean bathroom is not available (Carnival, Festivals, road trips, hiking, travelling, camping, etc). Ergonomically designed for women, this convenient urination device allows you to stand to pee, just like guys

EASY TO CLEAN - Cleaning your Pee Cup is a breeze... just wash it with soapy water after each use, and place back in the small carry case once dry.

EASY TO USE - Stand with your legs shoulder width apart. Simply pull down the front of your pants, or push your panties/ swimsuit to the side. Place the Pee Cup into position, and release the flow! Urine will come out the little spout. It is strongly recommended to practice at home before use
Colors:
· Blue
· Pink
· Yellow
Brand:
· Everything CropOver
Care instuctions:
Wash with soapy water after each use. Place back in small carry case once dry.
Please note:
Your monitor may display colors slightly different to real life. We have made every effort to display the colors accurately online, however color calibration of computer monitors can vary considerably. These photographs are a close representation of the actual colors of the items. If you have any questions please message us BEFORE making a purchase.
Follow us to keep up to date on new products, exclusive sales and exciting news:
Instagram @everythingcropover
TikTok: @everythingcropover

No customer reviews for the moment.
Customers who bought this product also bought: