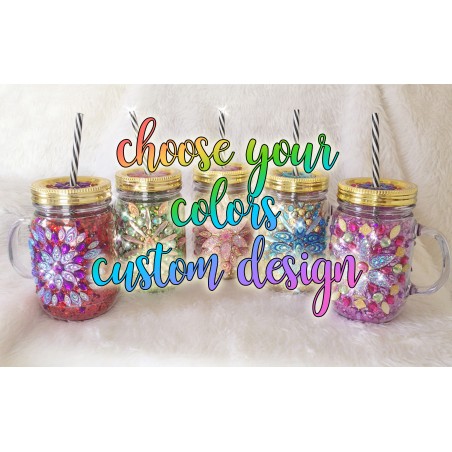  
Bling cup - Custom design
Custom designed bling cup to match your Carnival costume or fete outfit.
Size:
16oz mason jar - double walled to help keep your drink cooler for longer
Glitter colors:
· Black
· Royal blue
· Light blue
· Emerald Green
· Purple (Fuchsia)
· Hot pink
· Baby pink
· Peach
· Red
· Gold
· Silver
Gem colors:
· Black
· Blue
· Green
· Purple
· Yellow
· Orange
· Pink
· Red
· Gold
· Silver
· Bronze
· Crystal AB/ White
Security policy
We are committed to protecting the privacy of visitors to our Site.  Click here for more information
Delivery policy
Packages are generally dispatched via USPS within one business day after receipt of payment
Return policy
Due to the custom nature of our products we do not accept returns. Click here for more information
HOW TO ORDER:
· Choose your glitter color (mason jar)
· Choose your gem colors
· Alternatively send us a photo of your costume and we'll create a beautiful bling cup to match. WhatsApp photos of your costume/ outfit to: (954) 760-3826.
FEATURES:
· double walled acrylic (to help keep your drinks cooler for longer)
· wide mouth jar opening (to easily fill your bling cup with lots of ice)
· 16oz capacity (to save you having to go to the bar all the time)
· glitter and gems (sparkle wherever you go)
· reusable (better for the environment than disposable cups)
· lightweight (much lighter than glass)
CARE INSTRUCTIONS:
· hand wash in warm water, with regular dishwashing liquid, and a gentle sponge (no abrasives)
· do not place in dishwasher
· do not use in the microwave or oven
· for cold drinks only (not suitable for warm/ hot drinks)
· acrylic will break/ gems will fall off if dropped, knocked etc, so please treat your bling cup as if it was made of glass
RETURNS/ EXCHANGES:
Due to hygiene reasons we do not accept returns on this item. Please contact us if you are unhappy with your product, for any reason.
Whilst all effort is taken to ensure gems and trim are affixed with sufficient glue, occasionally gems or trim will become loose. Simply use Gorilla grip, E6000, hot glue, or any other glue suitable for use with acrylic to re-attach the gem.
Please note:
Your monitor may display colors slightly different to real life. We have made every effort to display the colors accurately online, however color calibration of computer monitors can vary considerably. These photographs are a close representation of the actual colors of the items. If you have any questions please message us BEFORE making a purchase.
Follow us to keep up to date on new products, exclusive sales and exciting news:
Instagram @everythingcropover
TikTok: @everythingcropover
No customer reviews for the moment.